Program available in French and English
Admission after High School diploma, A'Level or equivalent. Duration: 3 years followed by a year of professionalization.Recognized State Degree Level II - Bachelor Degree (accredited by the French accreditation commission).
During the Fashion Designer program, you analyze brands, decode trends, defend your inspirations, and illustrate your ideas in a style folder. You create your collections in the workshops to confirm their relevance, just like fashion stylists do in their studio workshops.
Your achievements are presented each year during the annual fashion show.
Your future job: to work as a clothing designer (for menswear, womenswear or accessories) for the haute couture, luxury or ready-to-wear sectors. You will have the mission to imagine, to draw, to create the models that will compose the collections of tomorrow.
You will be responsible for developing a complete line in correspondence with a collection plan. You may have to create original concepts.
Programs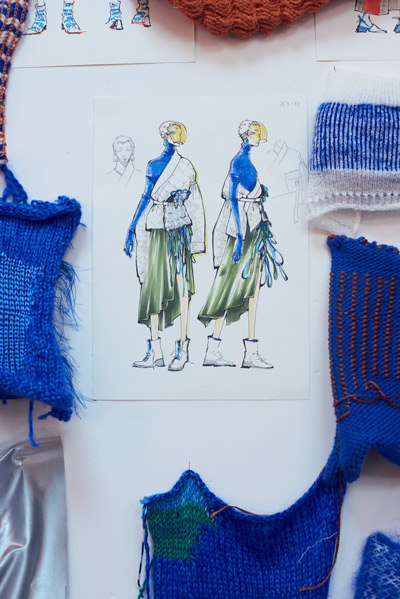 In the 4th year of professionalization: Build your professional project
At the end of the first year, 3 specialized workshops (style and textile, accessories) allow you to confirm your orientation.
In Paris or Nantes, become a professional fashion designer. Develop your creative personality, stimulate your imagination and define your style !
Qualification
The evaluation criteria taken into account by the final jury for obtaining the degree are:
Continuous control
Assessment of the 3rd year Fashion show
Exam at the end of 3rd year
Assessment of 4th year internships (minimum duration of 6 months) including the rating given by the company's tutors and that of the internship reports that you write after each experience.
* "Fashion Designer" Degree given by Locomotive - Atelier Chardon Savard, NSF 240 - Level II (Fr) 6 (Eu). Registered at the RNCP by decree of 17/07/2015 published in the Official Journal of 25/07/2015
Fashion Show
Each year, all students of the Fashion Designer training have the opportunity to create team collections and present them at a fashion show, taking place in an emblematic location in Paris. Back to the images on the fashion show 2021.