Parisian Fashion Design BA course in Berlin
Application is open for Winter Semester 2022
Good news for aspiring fashion designers: Atelier Chardon Savard, one of France's top five fashion schools, is now offering a French-inspired Fashion Design Bachelor's course in Berlin in cooperation with the renowned Macromedia University of Applied Sciences. 
Lessons take place in beautiful studios in the Kreuzberg district of Berlin. The 7-semester course is already accredited. Apply now for a place on the course and make your dreams of working in fashion design a reality. Atelier Chardon Savard will help pave your way to success in the fashion industry with a high profile network. The course takes place in the most creative city in Europe and in Germany's most international melting pot, the fashionable city of Berlin - more precisely - in Berlin's hip Kreuzberg district.
Berlin is one of the top ten "Best Student Cities worldwide 2019", not only because of the relatively low cost of living (Top 4 Most Affordable Student Cities worldwide 2016) but also because it has so much to offer culturally – Berlin is a city that never sleeps! 

Applications are currently open for Winter Semester 2022. Apply now.
Learn about the admission requirements here.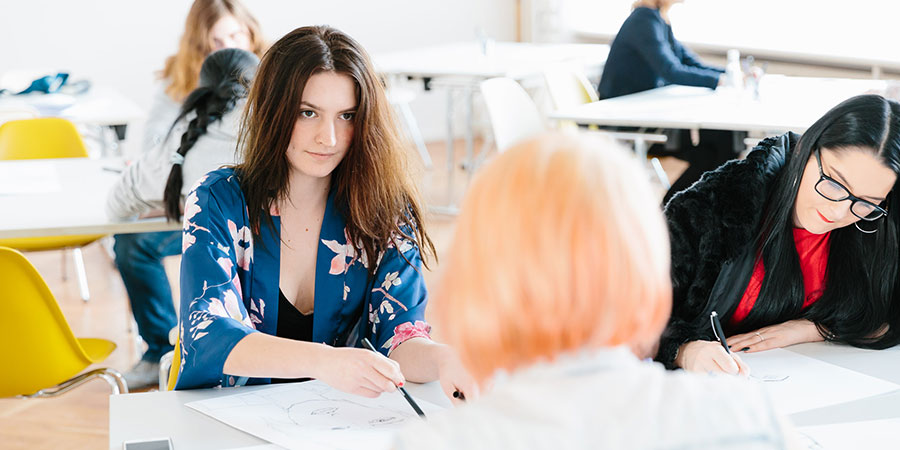 Your door to the fashion sector
Whether you're an experienced designer or an absolute beginner, we want to promote your talents and encourage your creativity so you can realize your dream of becoming a professional fashion designer. Through constant practice during your studies, we will prepare you for the specific requirements of the fashion industry.
Do you already have vocational training in the fashion sector or practical experience? These are the best prerequisites for our course and will give you the benefit of familiarity with the relevant industry terms.
Are you worried about the strict German admission requirements? Don't worry. You do not need a German "Abitur" to gain a place on the fashion design course. If you have any questions we would be happy to advise you on admission conditions.
From theory straight into practice
Once the three central building blocks - Replicé, Experimentation and Conceptuel – have been completed, we offer an intensive practical period at the end of your studies. Accompanied by your professors, you can concentrate on taking everything you learn during your studies and putting it into practice. Fresh from your studies you can immerse yourself in the working world without interruption and start building your professional network.
You will also have the full support of partner companies in the Paris, Nantes and Freiburg locations for the practical part of your studies. Doors will also be opened into the creative world and many different niches in the fashion and design industry in Berlin. Doors that others have to wait a long time to get through.
Find out more about the curriculum.
Find out more about the content of the course and the benefits to you.